Institutional publications
Éphémérides astronomiques - Connaissance des temps 2020
This annual book has been published by Bureau des longitudes since 1795.
This book is intented for astronomers, teachers and students. It contains two parts. The first one gives the state of knowledge in fundamental astronomical constants, time scales, reference systems, Earth rotation, coordinates change and explanations to use ephemerides. The second one gives ephemerides tables to calculate positions of Sun, Moon, planets and satellites for the current year.
This book is free and can be download. Printed form will be soon available on BoD bookshop.
A free software can be download to use ephemerides, for Windows or Mac.
Format 17x24cm. 194 pages.
Language : French
Editor : IMCCE.
ISBN : 978-2-910015-84-2
Guide de données astronomiques - Annuaire du Bureau des longitudes 2020
These annual ephemerides elaborated by IMCCE are published by the Bureau des longitudes since 1796.
This book contains data about calendars, time scales and astronomical calculations. Tables, which use of both astronomers amateurs and professional astronomers, give the Sun and Moon coordinates, sunrise and sunset hours, positions of planets, satellites, asteroids and comets as well as data on eclipses and other astronomical phenomena.
One or several thematic notebooks are included every year. This year, « Cent ans de géodésie en France » has been written by François Barlier and Claude Boucher, members of Bureau des longitudes.
See Table of contents.
Format 16x24cm. 408 pages.
Language : French
Editor : EDP Sciences
ISBN : 978-2-7598-2396-3
Price : 19€
Éphémérides nautiques 2020
These ephemerides have been published since 1889 and are intented for sailors.
This book provides declinations and right ascensions for Vénus, Mars, Jupiter and Saturne (hour by hour to the nearest tenth of one minute), and sunrise, sunset, moonrise and moonset times at latitude between 70°N and 56°S. Data provided are needed to estimate position.
Format 16x24 cm. 496 pages.
Language : French
Editor : Edinautic
ISBN : 979-10-91632-08-9
Price : 42 €
Introduction aux éphémérides astronomiques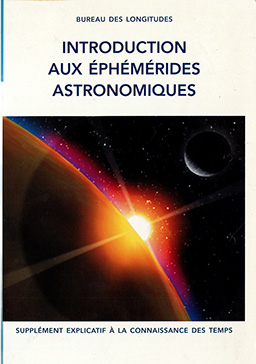 This book is a reference book intended for astronomers, students and all those who are interested by fundamental astronomy, astrometry and celestial mechanics.
This book covers the following topics :
Definitions and astronomical data, time scales
Reference system and coordinates changes
Precession and nutation, Earth rotation and Universal Time, movement of solar sytem's bodies
Explanations about ephémérides in the "Connaissance des temps"
This book is out of print. 1998 is the last publication date but a new updating edition is currently being drafted.
Last update Friday 27 December 2019