Online ressources
IMCCE contributes to knowledge transfer in publishing different kinds of teaching supports.
Eros 2019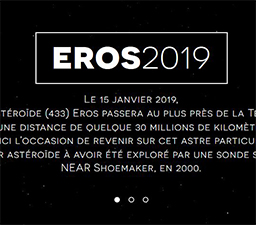 In January 15th, Eros is back near Earth. IMCCE make a website about this transit because Eros can be used to calculate parallax. Everybody can enter their measures to compute parallax. This website will shortly include informations and news about asteroids.
Annular eclipse on Reunion Island
A team of IMCCE members went on Reunion Island to observe annular eclipse in September 2016. A book has been published with local organizers and a video report has been produced to explain the different missions during such an event. Soon online (in French).
Transit of Mercury 2019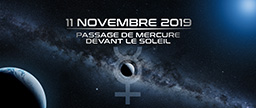 You can find in a special website Mercure 2019 every things about the transit's observation and education materials.
Last update Tuesday 29 November 2022