PEGASE
Planetology
Environments from
Ground
Astrometry and
Space
Exploration
Presentation
The PEGASE team is composed of astronomers, professors, PhD students and postdoctorates working on the problematics related to the dynamics of the solar system objects, from the terrestrial environment to the Trans-Neptunian objects. PEGASE brings together astronomical observers, celestial mechanics theorists, specialists in numerical modeling, experts in the dynamics of natural satellites, artificial satellites, space debris, asteroids, meteors and planet formation.
Research activities
Our problematics
Resources
Numerical modeling : N-Body codes, hydrodynamical codes, statistical approaches, frequency analysis, analytical developments, perturbation methods
Ground observations : Gaia-FUN-SSO network, NAROO, Mutual Phenomenons, Meteor networks, OHP, Subaru
Airborne based observations : 2007 Aurigids, 2008 Quadrantids, 2008 ATV reentry, 2011 Draconids
Space observations : CASSINI, Gaia, HST, JWS, JUICE, Mars Express, PLATO, Spitzer...
Objects of interest : Asteroids, natural satellites, planets and rings, comets, NEO, artificial satellites, space debris, exoplanetary systems
The team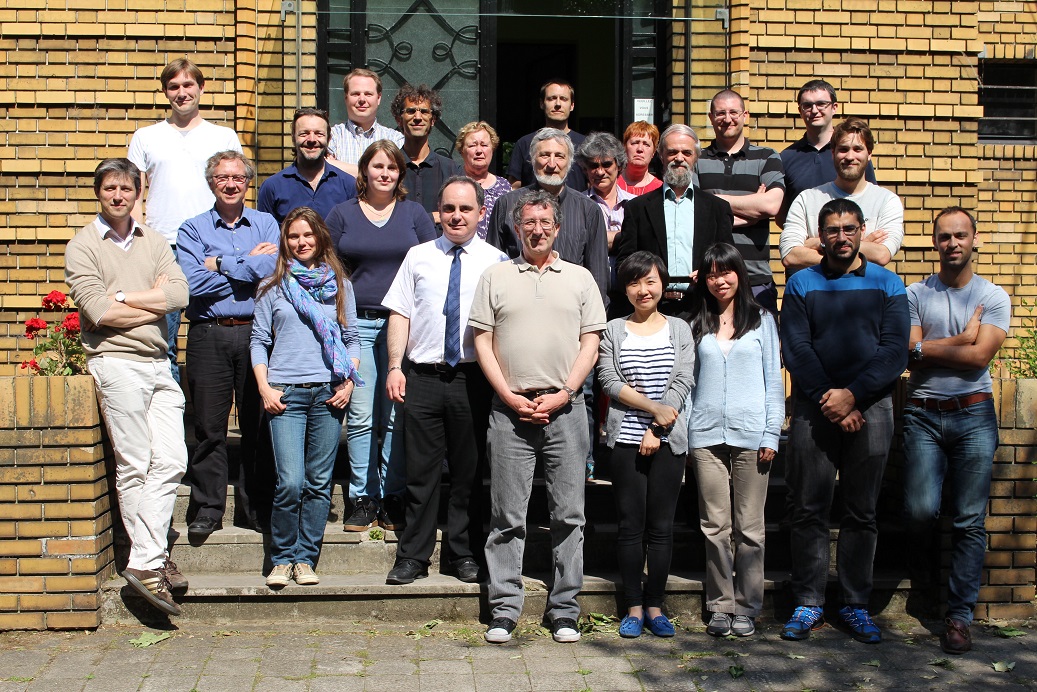 Affiliated
Nicholas Cooper (Queen Mary University London)
David Coulot (IGN)
Nikolai Emelyanov (SAI Lomonosov Moscou)
Benoît Noyelles (Université de Franche-Comté)
Radu Stoica (Université de Lorraine)
Roberto Vieira Martins (Observatoire National, Rio de Janeiro)
Former PhD students and postdoctorates
Nilton Araújo (UNESP, Guaratingueta, Sao Paulo) : "Um estudo de objetos perturbados e capturados pela ressonância de corrotação e Lindblad" / "A study of objects disturbed and captured by corotation and Lindblad resonance" (PhD def. 07/07/2017)
Jérôme Daquin : "Essais sur le mouvement résonant à long terme des débris spatiaux" (PhD def. 12/10/2015)
Josselin Desmars (Observatoire de Paris, LESIA)
Yann Duchemin (ESIGELEC) : "La navigation astronomique d'une sonde autonome, pour l'exploration du système solaire à l'ère de Gaia" (thèse soutenue le 28/01/2019)
Siegfied Eggl (JPL/NASA, Pasadena)
Fatoumata Kébé: "Etude de l'influence des incréments de vitesse impulsionnels sur les trajectoires de débris spatiaux" (PhD def. 12/06/2016)
Irina Kovalenko (IKI, Moscou): "Caractérisation orbitale et physique des astéroïdes binaires" (PhD def. 09/28/2016)
Maria Kudryashova
Shanna Li: "A new reduction of the old observations of Phoebe and the orbit update" (PhD def. 09/23/2016)
Bruno Morgado (Observatório Nacional do Brasil)
Alexis Petit (Firenze)
William Polycarpe : "Nouvelle étude de l'évolution orbitale des huit principaux satellites de Saturne" (PhD def. 10/29/2018))
Altair Ramos Gomes (Observatório Nacional do Brasil)
Melaine Saillenfest (IMCCE - ASD) : "Théories séculaires et dynamique orbitale au-delà de Neptune" (PhD def. 07/03/2017)
Éléonore Saquet (LESIA) : "Photométrie et Astrométrie des Satellites de Jupiter : Application à la campagne de phénomènes mutuels 2015" (PhD def. 09/26/2017)
Federica Spoto (OCA)
Xiaojin Xi : "Analytical representation for ephemeris with short timespan : Application to the longitude of Titan" (PhD def. 12/17/2018)
Working groups
Science highlights
Baillié K., Charnoz S., Pantin E., 2015. Time evolution of snow regions and planet traps in an evolving protoplanetary disk. Astronomy & Astrophysics 577, A65.


Cooper N.J., Lainey V., Meunier L.-E., Murray C.D., Zhang Q.-F., Baillié K., Evans M.W., Thuillot W., Vienne A., 2018. The Caviar software package for the astrometric reduction of Cassini ISS images: description and examples. Astronomy & Astrophysics 610, A2.


Lainey V., Jacobson R.A., Tajeddine R., Cooper N.J., Murray C., Robert V., Tobie G., Guillot T., Mathis S., Remus F., and 8 coauthors, 2017. New constraints on Saturn's interior from Cassini astrometric data. Icarus, 281, 286.


Renner S., Cooper N.J., El Moutamid M., Sicardy B., Vienne A., Murray C.D., Saillenfest M., 2016. Origin of the Chaotic Motion of the Saturnian Satellite Atlas. Astronomical Journal, 151.


Robert V., Pascu D., Lainey V., Arlot J.-E., De Cuyper J.-P., Dehant V., Thuillot W., 2016. New astrometric measurement and reduction of USNO photographic observations of the main Saturnian satellites: 1974-1998. Astronomy & Astrophysics, 596.


Saillenfest M., Fouchard M., Tommei G., Valsecchi G.B., 2017. Study and application of the resonant secular dynamics beyond Neptune. Celestial Mechanics and Dynamical Astronomy, 127, 477-504.


Thuillot W. et al., 2016. CU4-SSO/Gaia-FUN-SSO: A first step to validate the Solar System Objects detection. Technical Note ESA GAIA-C4-TN-IMC-WT-002-02, ESA.


Gaia Collaboration, Spoto F., et al. 2018. Gaia Data Release 2: Observations of solar system objects. Astronomy & Astrophysics in press.
Gaia Collaboration, Brown A. G. A., et al. 2018. Gaia Data Release 2. Summary of the contents and survey properties. Astronomy & Astrophysics in press.
Software and database
CAVIAR: CAssini Visual Image Analysis Release
STELA : Semi-analytical Tool for End-of-Life Analysis (CNES)
DynastVO: Virtual Observatory orbital asteroid database
NSDB: Natural Satellites DataBase
Multisat: Natural satellites online ephemerides
Last update Monday 28 January 2019